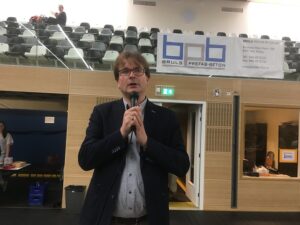 The number of registrations for the 14th BPB Limburg Open has exceeded our expectations: just six weeks before the tournament we have already reached the limit of 450 participants! But note: you can still sign up and then you will be on a reserve list. If someone drops out, the first person on the reserve list can join.
For those who still want to sign up and get on the reserve list, the following applies:
Just sign up using the form on the tournament site (look on the left side in the 'menu' under 'Participate');
You don't have to pay yet;
You will be placed on the reserve list;
If space becomes available and you can join, you will be notified personally; you will also receive a payment request and your participation is final once you have paid;
All registration closes on Wednesday, June 1, 2022 at 11:59 p.m.; after that, you cannot apply, including for the reserve list.
A total of 12 grandmasters in the tournament
We not only have a nice field of participants 'in width'. Also in terms of playing strength it promises to be a nice tournament. We have 12 grandmasters and about 50 titleholders (CM, FM, IM, WIM, WFM, WGM).
Match Van Foreest - Shirov
And besides the tournament, we have a wonderful extra this year: a four-match match between Jorden van Foreest and Alexei Shirov, two top players who guarantee spectacle. See for this: earlier message