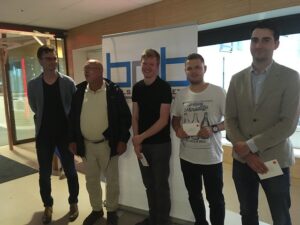 The 13th BPB Limburg Open in Maastricht was won by Polish grandmaster Grzegorz Nasuta. He finished together with International Master Thomas Beerdsen and grandmasters Benjamin Bok, Loek van Wely and Mikhail Gurevich on 5.5 out of 7, which meant a shared first place for the five.
Based on Tournament Performance Rating, the tournament victory was awarded to Nasuta.
The photo shows the top five. It was a very tough battle in the large A-group with over 120 participants who all had ratings above 2000. Gifts are not handed out, you have to fight every point.
The competition was fierce with 10 grandmasters and in addition a whole can of IM′s and FM′s opened up at the Limburg Open. After 7 rounds, five players came out on top in our tournament, which with 450 participants was again one of the largest in Europe. Based on TPR, the official tournament victory was awarded to Nasuta.
His picture will therefore be hung on the ′wall of fame′ in sports hall De Geusselt next year.
7 out of 7 for Bas Pasterkamp
Worth mentioning is a result in one of the lower groups. In group C2 there was a player who managed to win all games, yes 7 out of 7. This is Bas Pasterkamp of Schaakvereniging Maastricht.
100% score Wout van Veen
Also in the veteran group was a player, Wout van Veen, who achieved a score of 100 percent, 5 out of 5. Nice that someone at a later age still wins a tournament like that. For the first time a tournament victory with the full 100 percent score, he reported himself.
Thank you
The tournament could be concluded nicely on time. Everything ended nicely on time and the awards ceremony could even begin earlier than planned. This ceremony took place in the bar area, an ideal intimate and cozy setting. After a word by tournament director Barry Braeken, the prizes were awarded. Barry thanked everyone for their cooperation, such as bar staff, volunteers, players, sponsors, in short, everyone who had helped to make the event a success.
Limburg Chess Federation
Chairman Walter Kunstek of the Limburg Chess Federation also spoke a word. After all, the tournament also included the 90th Championship of Limburg for the best member of the Limburg Chess Federation. The Limburg title went to 19-year-old Max Warmerdam from Tegelen, followed by Martijn Dambacher from Venlo and Ruud van Meegen from Kessel.